Have you ever dreamt of turning your culinary skills into a profitable venture? Starting a catering business in India can be a fulfilling and financially rewarding endeavor.
Whether you're a passionate home cook or a trained chef, this guide will walk you through the steps to establish a successful catering business with a budget of less than 2 lakh INR, tailored for Tier 3 audiences.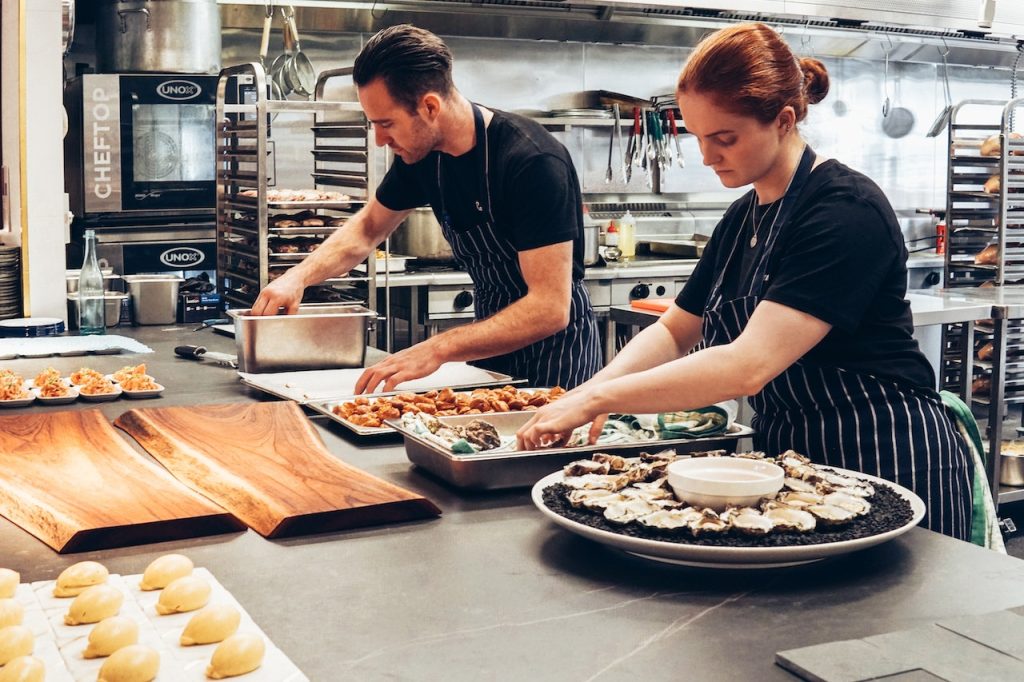 Here are the steps to start a Catering Business in India:
Step 1: Market Research
Before you embark on your catering journey, it's essential to conduct thorough market research:
Identify your target audience, such as individuals, businesses, or event planners.
Assess the competition in your locality to understand their strengths and weaknesses.
Determine the types of events that are most popular in your area.
Step 2: Menu Selection
Based on your market research and culinary expertise, create a diverse menu that can cater to a wide range of tastes and dietary preferences. Consider offering both vegetarian and non-vegetarian options to appeal to a broader audience.
Step 3: Legal Requirements
Starting a catering business in India involves certain legal requirements:
Business Registration: Register your catering business as a sole proprietorship or partnership. Consult a local business consultant or CA (Chartered Accountant) for guidance.
Food Safety Licenses: Depending on your location, you may need licenses like the Food Safety and Standards Authority of India (FSSAI) license.
GST Registration: Register for Goods and Services Tax (GST) if your annual turnover exceeds the prescribed limit.
Step 4: Kitchen Setup
Since you're operating on a budget, consider starting your catering business from your home kitchen. Ensure it's well-equipped with essential appliances and cookware. Invest in quality utensils, pots, and pans to maintain food quality.
Step 5: Procurement of Ingredients
Source high-quality ingredients at competitive prices. Consider forming partnerships with local farmers or suppliers to secure the best deals. Maintaining a good relationship with suppliers can lead to cost savings in the long run.
Step 6: Branding and Marketing
Create an appealing brand identity, including a business name, logo, and business cards. Build a professional website and showcase your menu, pricing, and contact details. Leverage social media platforms, local advertising, and word-of-mouth marketing to promote your catering services.
Step 7: Pricing Strategy
Determine your pricing strategy by considering factors like ingredient costs, preparation time, and market rates. Offer competitive pricing while ensuring your profitability.
Step 8: Food Hygiene and Safety
Maintain strict hygiene standards in your kitchen and during food preparation and delivery. Train your staff, if any, on food safety practices.
Estimated Costs
Here's a rough breakdown of estimated costs to start a catering business in India:
Business Registration and Licenses: ₹5,000 – ₹15,000
Kitchen Setup: ₹30,000 – ₹50,000 (including utensils, cookware, and appliances)
Ingredients and Supplies: ₹20,000 – ₹40,000 (initial inventory)
Marketing and Branding: ₹5,000 – ₹10,000
Transportation and Delivery: ₹10,000 – ₹20,000 (if you don't own a vehicle)
Miscellaneous Expenses: ₹10,000 – ₹15,000
Total Estimated Initial Investment: ₹80,000 – ₹150,000
Business Pitch
Are you tired of the same old catering options for your special events? We at [Your Business Name] are here to spice things up and provide you with a delectable culinary experience like no other!
At [Your Business Name], we are passionate about food and dedicated to making your events unforgettable. We offer a wide range of mouthwatering dishes that cater to various tastes and dietary preferences. From weddings to corporate gatherings, our catering services are tailored to your needs.
Why choose us?
Affordable pricing without compromising on quality
Diverse menu options to satisfy every palate
Experienced chefs and kitchen staff
Punctual and reliable delivery services
Commitment to food safety and hygiene
Make your next event a gastronomic delight with [Your Business Name]. Contact us today at [Your Contact Information] to discuss your catering needs and get a taste of what we have to offer. Trust us to elevate your event with exceptional food and service.
Starting a catering business in a Tier 3 city with less than 2 lakh INR is an achievable goal. By following these steps, providing top-notch service, and offering unique culinary experiences, you can establish a profitable catering business that brings joy to your clients and financial stability to your life.
Explore Galaxy of Ideas – A world of many perspectives & the cosmos of innovative thinking.
Got Any Idea That's Missing?
Share It with Us and Let's Fill the Gap Together.
Your feedback and suggestions are valuable to us. If you have any questions or need additional information about the topic, please feel free to comment below. We are here to help and provide you with the best possible guidance. Your comments will also help us improve our content and better serve our audience. So, don't hesitate to share your thoughts with us. We appreciate your input and look forward to hearing from you!