For Tier 3 entrepreneurs in India, the dream of starting a successful business often seems unattainable due to financial constraints. However, with the right guidance and a bit of creativity, you can embark on a journey of entrepreneurship by diving into the world of hand-made jewellery.
Not only is this a fulfilling and artistic venture, but it can also be started with an investment of under INR 1 lakh and yield promising returns. In this blog, we'll take you through the step-by-step process of establishing your own hand-made jewellery business, catering to the unique needs of a Tier 3 audience.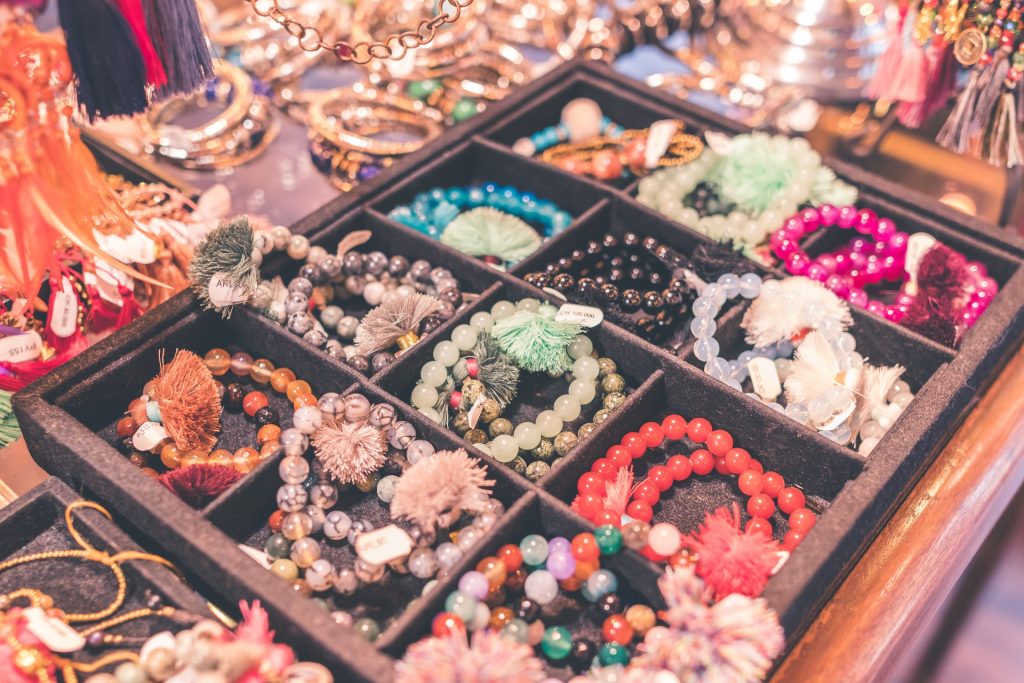 Here are the steps to start a Hand-Made Jewellery in India:
Step 1: Market Research and Planning
The first step to starting any business is understanding your market. In Tier 3 cities and towns in India, hand-made jewellery can be a niche yet profitable market. Begin by identifying your target audience – are you catering to weddings, festivals, or everyday wear? Understand the local preferences and demand for jewellery styles.
Step 2: Skill Development
To create beautiful hand-made jewellery, you need to acquire the necessary skills. If you're already skilled, great! If not, consider taking up jewelry-making courses. These courses are often affordable and can be found online or at local craft schools.
Step 3: Sourcing Materials
Your primary expenses will be related to purchasing raw materials. Look for wholesale suppliers of beads, gemstones, metals, and other materials. You can find these suppliers online or in nearby jewellery-making markets. Consider visiting local gemstone mines or trade shows for more cost-effective options.
Step 4: Crafting a Brand and Business Plan
Think of a unique name for your jewellery brand and design a logo that represents your style. Then, create a business plan that outlines your financial goals, target audience, marketing strategy, and pricing.
Step 5: Setting Up a Workspace
You can start small, working from your home or renting a small workspace. Ensure you have the necessary tools and equipment such as pliers, cutters, bead boards, and storage for your materials.
Step 6: Creating Inventory
Start creating your jewellery pieces. Focus on a variety of designs to cater to different tastes. Initially, keep your product range small and expand as your business grows.
Step 7: Pricing and Packaging
Determine the pricing of your jewellery by considering the cost of materials, your time, and desired profit margins. Invest in appealing packaging that adds value to your products.
Step 8: Pricing and Packaging
Promote your jewellery business through social media platforms like Facebook, Instagram, and local craft fairs. Create an online store or use platforms like Etsy to reach a wider audience.
Step 9: Legal and Financial Aspects
Register your business, get any necessary licenses, and set up a basic accounting system. Consider getting a GST registration if your turnover exceeds the threshold.
Step 10: Customer Service and Feedback
Always prioritize customer service. Respond promptly to queries, address customer concerns, and ask for feedback to improve your products and service.
Estimated Costs:
Skill Development: INR 5,000 – 10,000 (for courses and materials)
Raw Materials: INR 30,000 – 40,000 (initial purchase)
Workspace Setup: INR 10,000 – 15,000
Branding and Packaging: INR 5,000 – 7,000
Miscellaneous (licenses, website setup, etc.): INR 5,000 – 8,000
Marketing: INR 5,000 – 7,000
Working Capital: INR 20,000 – 25,000
Total Estimated Cost: INR 75,000 – 100,000
Business Pitch:
Are you looking for a business opportunity that combines your creative flair with entrepreneurial aspirations? Our hand-made jewellery business offers an exciting and affordable way to start your own venture. With an initial investment of under INR 1 lakh, you can tap into the growing demand for unique, hand-crafted jewellery in Tier 3 cities and towns. Our step-by-step guide will help you navigate the intricacies of establishing your brand, sourcing materials, and marketing your products effectively.
Intricate designs, personalized service, and a personal touch – that's what our jewellery business offers. Whether it's for weddings, festivals, or everyday wear, our hand-made jewellery will cater to the local tastes and preferences of your community.
So, why wait? Embrace your creative side and embark on a journey to financial independence with our hand-made jewellery business. It's time to shine!
Starting a hand-made jewellery business in India with an investment of under INR 1 lakh is a dream that can become a reality. With dedication and the right strategy, you can achieve not only financial success but also personal fulfilment through your artistic creations. So, get ready to craft your way to success in the glittering world of hand-made jewellery!
Got Any Idea That's Missing?
Share It with Us and Let's Fill the Gap Together.
Your feedback and suggestions are valuable to us. If you have any questions or need additional information about the topic, please feel free to comment below. We are here to help and provide you with the best possible guidance. Your comments will also help us improve our content and better serve our audience. So, don't hesitate to share your thoughts with us. We appreciate your input and look forward to hearing from you!