Do you have an eye for design and a passion for adornments? Starting a jewellery business could be your golden ticket to entrepreneurship. Even in tier 3 cities across India, there's a growing demand for unique and affordable jewellery pieces.
In this blog post, we'll guide you through the step-by-step process of establishing a jewellery business with an initial investment of less than INR 1 Lakh while achieving substantial monthly returns on your investment.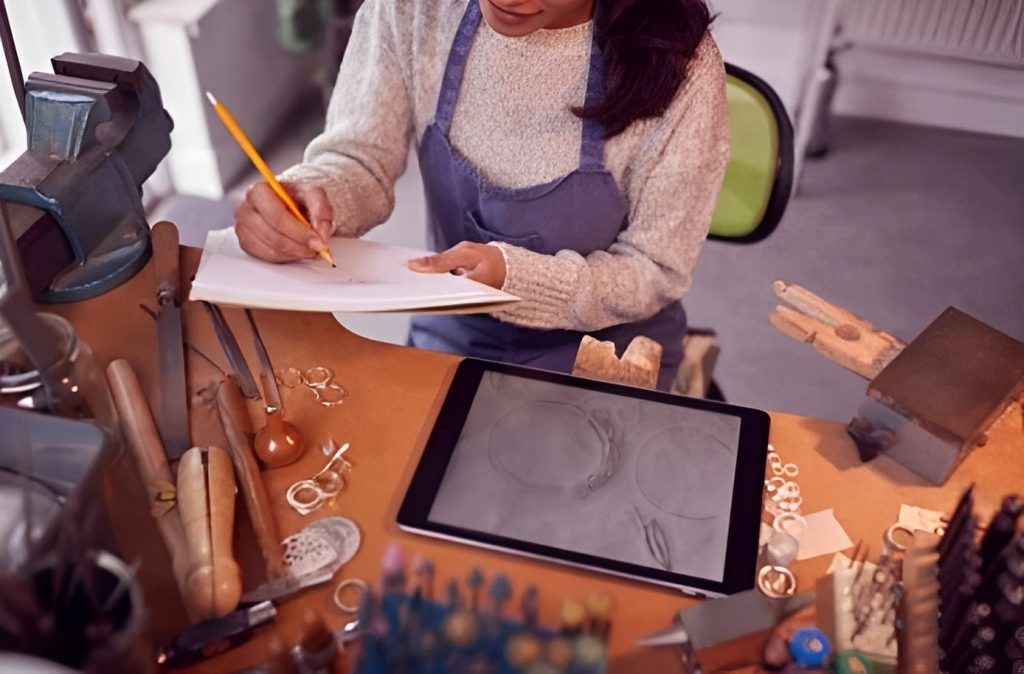 Here are the steps to start a Jewellery Business in India:
Step 1: Market Research
Before you dive into the world of jewellery making, conduct thorough market research. Understand your potential customers, their preferences, and the competition in your area. Tier 3 cities often have a unique market with room for artisans and small businesses.
Estimated Cost: Minimal, primarily your time and effort.
Step 2: Skill Development
If you're not already skilled in jewellery making, invest in training. Enroll in jewellery-making courses or workshops to enhance your craftsmanship.
Estimated Cost: INR 5,000 – INR 10,000 for training.
Step 3: Sourcing Materials
Acquire the necessary materials for your jewellery designs. Start small with basic materials like beads, wires, and findings. You can expand your inventory as your business grows.
Estimated Cost: INR 20,000 – INR 30,000 for initial materials.
Step 4: Crafting Workspace
Set up a dedicated workspace for your jewellery-making endeavours. Ensure it is well-lit, organized, and equipped with essential tools and equipment.
Estimated Cost: INR 10,000 – INR 15,000 for workspace setup.
Step 5: Design Unique Pieces
Create a collection of unique jewellery pieces that cater to your target audience's tastes and preferences. Focus on a niche, whether it's handmade silver jewellery, beaded accessories, or traditional Indian designs.
Estimated Cost: None, but it requires creativity and effort.
Step 6: Branding and Packaging
Design a memorable brand logo and packaging for your jewellery. Effective branding can set your business apart and attract customers.
Estimated Cost: INR 5,000 – INR 10,000 for branding and packaging materials.
Step 7: Online Presence
Create an online presence for your jewellery business through social media platforms, a website, or online marketplaces. Showcase your jewellery pieces and engage with potential customers.
Estimated Cost: INR 10,000 – INR 15,000 for website development and social media promotion.
Step 8: Pricing Strategy
Determine your pricing strategy by considering the cost of materials, labour, and desired profit margins. Offer competitive pricing to attract customers.
Estimated Cost: None, but it's essential to set competitive prices.
Step 9: Marketing
Promote your jewellery through online marketing, collaborations with local influencers, and participation in local craft fairs or exhibitions.
Estimated Cost: INR 5,000 – INR 10,000 for marketing campaigns.
Step 10: Sales and Customer Engagement
Start selling your jewellery pieces through online platforms or local markets. Engage with your customers, gather feedback, and build a loyal clientele.
Estimated Cost: Minimal, primarily your time and effort.
Estimated Total Cost: INR 55,000 – INR 90,000
Monthly ROI Potential
The returns on investment for a jewellery business can vary depending on your marketing efforts, design uniqueness, and customer base. However, with the right strategy, it's realistic to earn INR 15,000 – INR 30,000 or more per month after covering your initial costs.
Business Pitch
Business Name: []
Pitch: At [] Jewels, we believe in the beauty of individuality. Our handcrafted jewellery pieces are a testament to your unique style and personality. We take pride in creating one-of-a-kind adornments that enhance your beauty and express your essence. Join us in celebrating the art of self-expression through jewellery.
Starting a jewellery business is not just about crafting beautiful pieces; it's an opportunity to celebrate individuality and style. With a modest investment and your creative vision, you can embark on a journey to bring joy and elegance to the lives of your customers. So, let your creativity shine and start your own jewellery business today!
Are you ready to hustle?
Get started with just 1 lakh and grow your business today! Don't worry if you have no idea where to begin, our expert team will guide you every step of the way from ideation to commercialization. Whether you have an idea in mind or need help generating one. With our collaborative innovation, prototyping, and market entry strategy, we can help you launch a successful business at a low cost. Whether you're a housewife, unemployed, job seeker, entrepreneur, business professional, business owner, or investor. We have something for everyone.
Let's connect now to unlock the opportunities waiting for you in the Indian market and receive a free business consulting session. Don't miss this opportunity to start your own business. Here's your chance to begin your entrepreneurial journey today!
Explore Galaxy of Ideas – A world of many perspectives & the cosmos of innovative thinking.
Got Any Idea That's Missing?
Share It with Us and Let's Fill the Gap Together.
Your feedback and suggestions are valuable to us. If you have any questions or need additional information about the topic, please feel free to comment below. We are here to help and provide you with the best possible guidance. Your comments will also help us improve our content and better serve our audience. So, don't hesitate to share your thoughts with us. We appreciate your input and look forward to hearing from you!