Who doesn't love the delightful taste of ice cream on a warm day? If you have a passion for frozen treats and dream of starting a business with a limited budget, an ice cream cone venture could be the perfect choice.
In this blog, we will guide you through the process of starting an ice cream cone business from scratch in India, tailored for Tier 3 audiences. With an investment of under INR 1 Lakh, you can create a lucrative venture that brings joy to people's lives and ensures good returns on investment each month.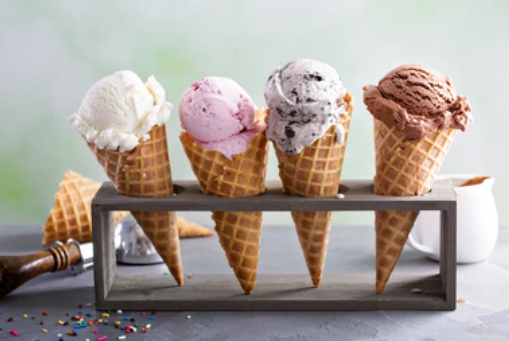 Here are the steps to start an Ice cream Cone business in India:
Step 1: Market Research
Before commencing any business, it's vital to conduct thorough market research. Identify your target audience, explore popular ice cream flavours, and analyze your competitors. Understanding local preferences will help you tailor your offerings accordingly.
Step 2: Unique Selling Proposition (USP)
To stand out from the competition, develop a unique selling proposition for your ice cream cones. Whether it's offering exotic flavours, locally sourced ingredients, or an innovative cone design, having a distinct USP will attract more customers.
Step 3: Sourcing Quality Ingredients
Invest in high-quality ingredients, including fresh dairy, fruits, nuts, and flavorings. Opt for local suppliers to ensure cost-effectiveness and reduce transportation expenses.
Step 4: Production Equipment
You'll need ice cream machines, display freezers, cone-making machines, and storage equipment. Consider purchasing pre-owned machinery to save on costs initially.
Step 5: Licensing and Permits
Register your business and acquire the necessary licenses and permits to operate legally. Health and hygiene certifications are essential for handling food products.
Step 6: Setting Up an Attractive Outlet
Choose a strategic location for your ice cream cone outlet. Ensure it is easily accessible and has a good footfall. Invest in visually appealing signage and decor that reflects the joy of ice cream.
Step 7: Diverse Flavors and Offerings
Offer a wide variety of ice cream flavors to cater to different tastes. Include popular classics like vanilla and chocolate, as well as unique local flavors to attract more customers.
Step 8: Branding and Packaging
Create an attractive brand identity that represents the essence of your ice cream cones. Design eye-catching packaging that makes your cones visually appealing and convenient for takeaway.
Step 9: Marketing and Promotion
Utilize social media platforms, local advertisements, and word-of-mouth marketing to create a buzz around your ice cream cone business. Offer discounts, loyalty programs, and special deals to attract and retain customers.
Step 10: Cost and Pricing Strategy
Calculate the cost of production for each ice cream cone, including ingredients, packaging, rent, and overheads. Set competitive yet profitable prices that align with your target audience's purchasing power.
Estimate Costs:
Equipment and Machinery: INR 40,000 – 50,000
Ingredients and Raw Materials: INR 20,000 – 25,000
Outlet Setup and Decor: INR 10,000 – 15,000
Licensing and Permits: INR 5,000 – 7,000
Marketing and Promotion: INR 5,000 – 10,000
Miscellaneous (initial stock, utilities): INR 10,000 – 15,000 Total: INR 1,00,000
Business Pitch: Indulge in a business that delights and satisfies the taste buds of everyone in town! Our ice cream cone business brings you a delightful opportunity to enter the world of frozen wonders with an investment of under INR 1 Lakh. We promise you an experience filled with creamy goodness, a journey that brings smiles to faces, and a venture that ensures handsome returns on investment each month.
At our ice cream cone outlet, we take pride in offering a diverse range of flavors, each handcrafted with love using the finest ingredients. Our cones are more than just frozen treats; they are moments of happiness, cherished memories, and a sweet escape from the daily routine.
Join us in our pursuit of spreading joy, one scoop at a time. Together, let's create an irresistible destination for ice cream lovers and build a thriving business that sweetens the lives of our community.
Conclusion: Starting an ice cream cone business in India with an investment of under INR 1 Lakh is a dream come true for ice cream enthusiasts with an entrepreneurial spirit. By focusing on quality ingredients, diverse flavors, and effective marketing, you can create a successful venture that brings happiness to people's lives while ensuring good returns on investment each month. So, embark on this delicious journey, and let your passion for ice cream cone delights melt the hearts of your customers!
Are you ready to hustle?
Get started with just 1 lakh and grow your business today! Don't worry if you have no idea where to begin, our expert team will guide you every step of the way from ideation to commercialization. Whether you have an idea in mind or need help generating one. With our collaborative innovation, prototyping, and market entry strategy, we can help you launch a successful business at a low cost. Whether you're a housewife, unemployed, job seeker, entrepreneur, business professional, business owner, or investor. We have something for everyone.
Let's connect now to unlock the opportunities waiting for you in the Indian market and receive a free business consulting session. Don't miss this opportunity to start your own business. Here's your chance to begin your entrepreneurial journey today!
Explore Galaxy of Ideas – A world of many perspectives & the cosmos of innovative thinking.
Got Any Idea That's Missing?
Share It with Us and Let's Fill the Gap Together.
Your feedback and suggestions are valuable to us. If you have any questions or need additional information about the topic, please feel free to comment below. We are here to help and provide you with the best possible guidance. Your comments will also help us improve our content and better serve our audience. So, don't hesitate to share your thoughts with us. We appreciate your input and look forward to hearing from you!